Trade Facilitation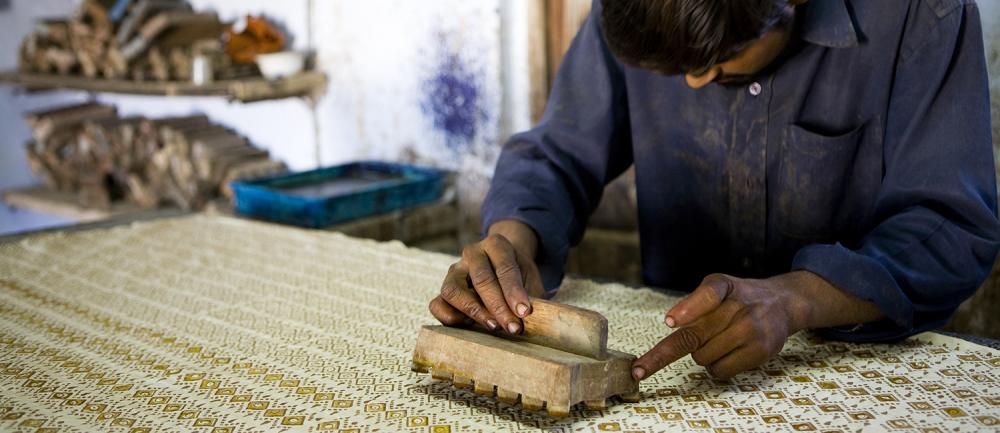 Historically craft practice in India was linked to a community's livelihood. With the understanding that preservation and growth of the handicraft industry will not be possible without successful production and sales, Khamir works to connect artisans with markets and to facilitate fair trade while emphasizing the importance of trust and relationship-building. While the most immediate result of trade facilitation is income generation for artisans, we have also found that increased trade assists in the improvement of community capacity building.
Our approach is four-pronged...
Terms of Engagement support small and medium artisan units by offering production commitments for a minimum of six months per year. Units are also provided with advances, raw materials, design input, and quick payments. Established or larger artisan units are engaged for large or specialized orders. While Khamir does not yet offer stake holding for artisans, wages are generally fixed at 25% above prevailing market rates or higher. For groups who have been consistently engaged there is a 5% premium on quality and production. We encourage wholesale buyers into two types of roles: to be an organizing agency or to work in connection with a large artisan unit.  
Marketing and Exhibitions are organized to promote the cultural value of craft and the human context in which it is created. In order to educate the public, Khamir offers interactive craft demonstrations on campus and opportunities to connect with artisans at exhibitions across India's major cities. In addition to raising awareness about crafts and Khamir brand, the exhibitions empower artisans in their own business ventures.
The Khamir Craft Outlet is a shop where visitors can view and purchase Kachchhi handicrafts. The stock of the outlet is intentionally planned to ensure that small and medium-sized artisan units—which have less access to markets—receive higher representation. In addition to selling traditional items, the outlet acts as a marketing forum for artisans to experiment with products in development. (Link to shop)